Your Local Tree Service Professionals
28+ years of reputation for providing caring service with integrity and fair pricing.
Tree Services in Universal City
Professional Tree Services
---
Whatever your tree care needs in Universal City, we're ready with truly professional services at affordable rates. Even 24 hours a day if needed for emergencies. Our expertise goes beyond pruning and tree trimming services to include large tree removal, stump removal, palm tree skinning, and brush clearing. We'll take care of the complete job, from inspection to haul away and final cleanup.
Emergency Tree Services
Have a tree down, or a large branch down? Or threatening to come down? Wind, rainstorms, mudslides, earthquakes, vehicle accidents… the need for emergency tree services can happen at any time. So we're ready for prompt 24 hour emergency dispatch in Universal City and throughout nearby areas.
Our extensively trained team will arrive with all the right equipment to quickly, properly, and safely deal with the situation. After assessing the tree and it's surroundings we'll clear fallen branches, and stabilize the tree through cabling, bracing, and/or wind load reduction. Or if necessary, provide emergency tree removal services.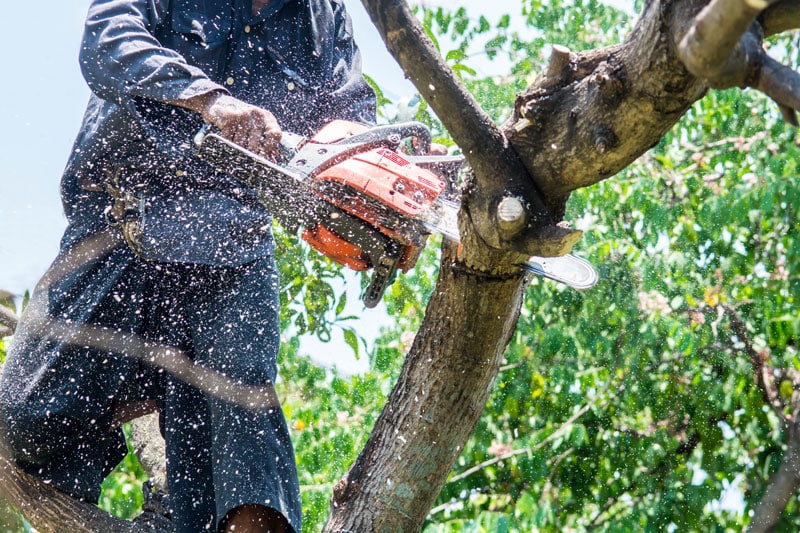 Tree Trimming Universal City
The term trimming refers to the careful shortening and removal of branches to remove hazards, improve the health of the tree, and make the foliage more attractive. Annual pruning and trimming are important for the first 5 years of a tree's lifetime to establish a proper shape and balance. After that trimming service is needed less often. The basic types of pruning or trimming are as follows.
Cleaning removes dead wood along with broken, diseased, and poorly attached branches.
Crown raising removes lower branches to create better clearance beneath.
Crown reduction removes as many as 1/4 of all branches to improve structural integrity with weight balanced and wind load reduced. This "major surgery" requires extra expertise.
Thinning is the selective removal of branches to improve views, light penetration, and air circulation.
Topping reduces the total height.
Utility trimming keeps branches from interfering with power, phone, and cable lines.
Different species have different needs with services usually involving some combination of the above and we adjust the details specific to the species and the individual tree.
Palms
Our special skills extend to palms. Proper palm tree trimming does more than avoid an eyesore. It avoids the hazards of heavy, sharp fronds falling along as well as those slippery, staining seeds. And for a sleek manicured appearance we're also experts at palm tree skinning.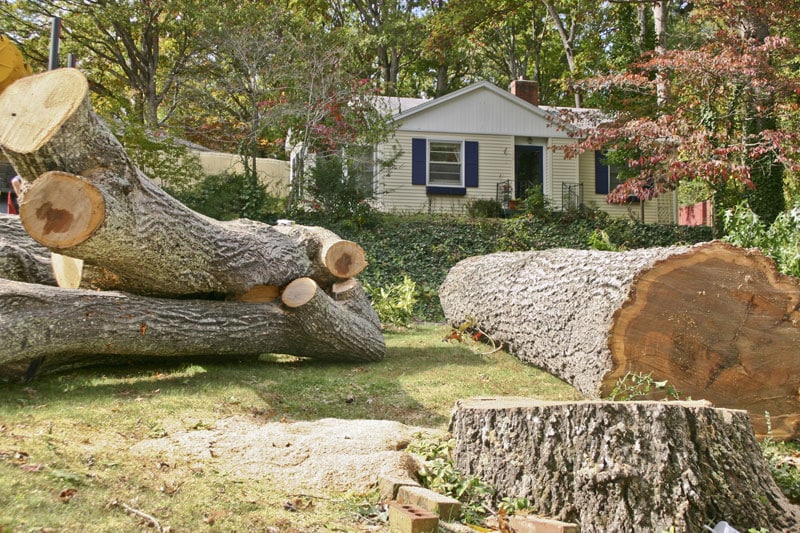 Tree Removal
Trees add a special beauty to the landscape and are important to ecology and climate, but sometimes our tree removal service is the only viable option. A tree may have been poorly maintained, damaged by wind or disease, or simply too old. Or an improper species may have been planted in a problematic location. Or you're renovating your property. We're Universal City large tree removal experts. We'll diagnose the tree to be sure removal is necessary then work safely to protect nearby buildings, vehicles, utility lines, and landscaping. As part of branch and tree trunk removal we'll haul everything away or grind it into wood chips for your use.
State regulations set limits on removal of certain species such as oak and laurel, and local ordinances require approval and permits for removal of trees above a certain trunk diameter and/or height. We'll take care of all that for you and do it all by the book.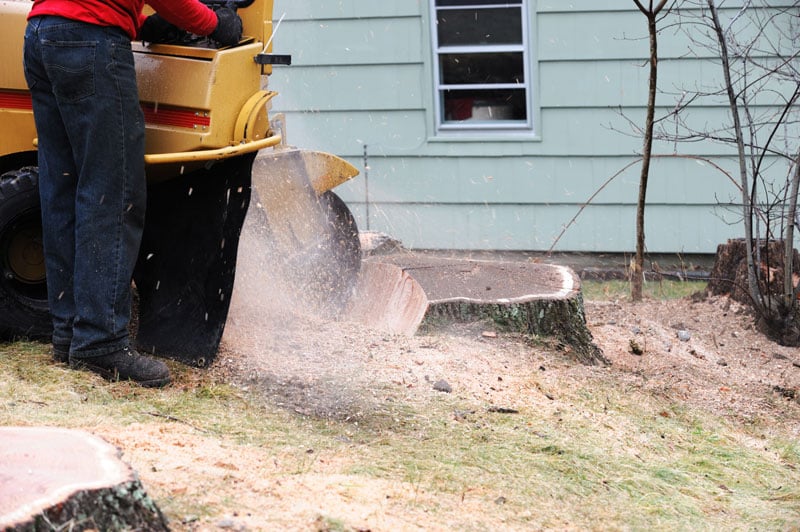 Stump Removal
Any estimate for tree removal should note that stump removal is included. Otherwise you'll be left with a few inches of tree trunk above ground. Do-it-yourself methods are rarely effective, so most likely you'll be stuck with that annoyance for years or decades. But our stump grinding takes care of it all in just an hour or two. So there's no landscaping or gardening problems, no mowing hassles, no trip hazards and nothing to attract termites or other insects.
We'll have the right size grinder for the fastest results given available access. They remove the trunk and roots down to 20 inches below the surface, turning them into fine wood chips that we can either haul away or leave for you to use as mulch. It's the fast, eco-friendly solution.
Choose Rancho Tree Care
---
In business for 28+ years we're known for our expertise and integrity. Just check our reviews and BBB accreditation. We work with property managers, business owners, homeowners, and real estate agents. Still family owned & operated you can count on personalized service and attention to every detail. And we're happy to answer your questions. We're always conscious of the safety of our workers and those around them and will clean up, haul away, and recycle or properly dispose of all wastes.