Southern California's Trusted
Commercial Tree Care Services

28+ years of reputation for providing caring service
with integrity and fair pricing.
Commercial Tree Services
---
Many businesses ignore trees until there's a problem. That's rarely the best strategy, and the property will loose some eye-appeal long before any major issue. Our commercial tree services help keep landscaping looking it's best and the risks of building damage or personal injury to a minimum. Our expertise includes tree trimming, tree removal, stump grinding, and much more.
Rancho Tree Care provides affordable commercial tree services to all Sherman Oaks, Tarzana, Woodland Hills, Santa Clarita, Simi Valley and surrounding areas
We're courteous and knowledgeable professionals. Family owned for over 28 years we're Better Business Bureau accredited with a solid track record. Just check our reviews.
Our Services
Our professionals are well-trained in a full line of tree services. Our commercial team works closely with business owners and property managers to deliver quality work at economical rates. We can inventory your property and assess each tree, then develop a comprehensive plan. It can start in phases with multi-year strategies prioritized for safety, aesthetics, and budget. And we offer prompt 24 hour emergency services to new and existing commercial customers alike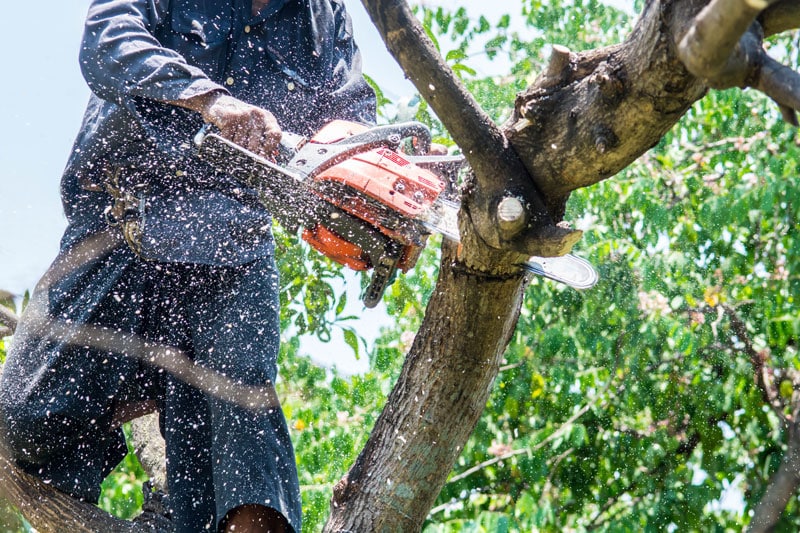 Tree Trimming
We're most often called upon for tree trimming. Performed regularly it provides far more than a welcoming appearance. In addition to shaping for a more uniform look our experts selectively remove and shorten branches for the best structural integrity and overall health of the tree. Our hazard reduction also takes care of any branches that threaten the building or utility lines.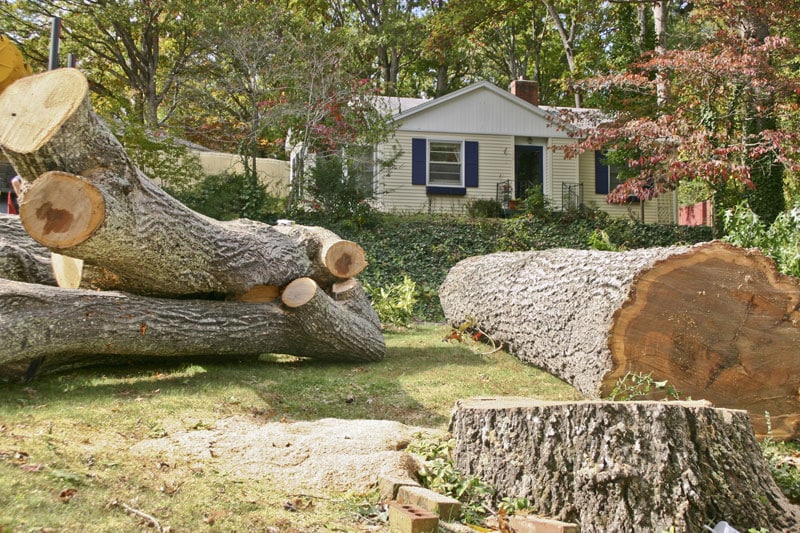 Tree Removal
Sometimes even with the best of tree care removal is necessary. The tree could already be too diseased or overgrown, or have just suffered storm damage. Or it might not be part of a revamped landscaping plan. Our commercial tree services include large tree removal, following all ordinances and permit requirements. We'll minimize the disruption and distraction to tenants, and can provide complete clean-up and haul-away.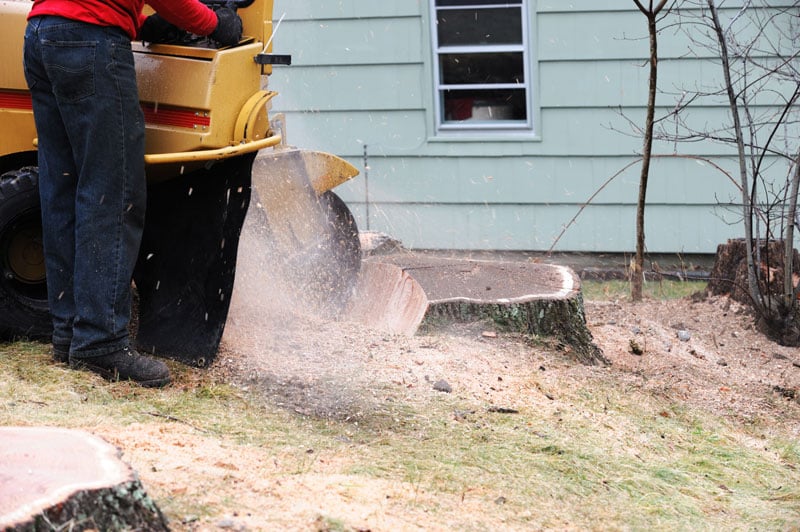 Stump Grinding
If left behind after a take-down, stumps are a nuisance to grounds maintenance and in some locations pose a tripping hazard. They attract insects (including termites) and may start to regrow. Stump grinding is the best option for their removal. It takes just an hour or so, while chemical methods usually take months. Sometimes longer. With the right arsenal of equipment for every job, we can remove stumps and roots down to of a depth as much as 20 inches so there's no interference with current or future landscaping.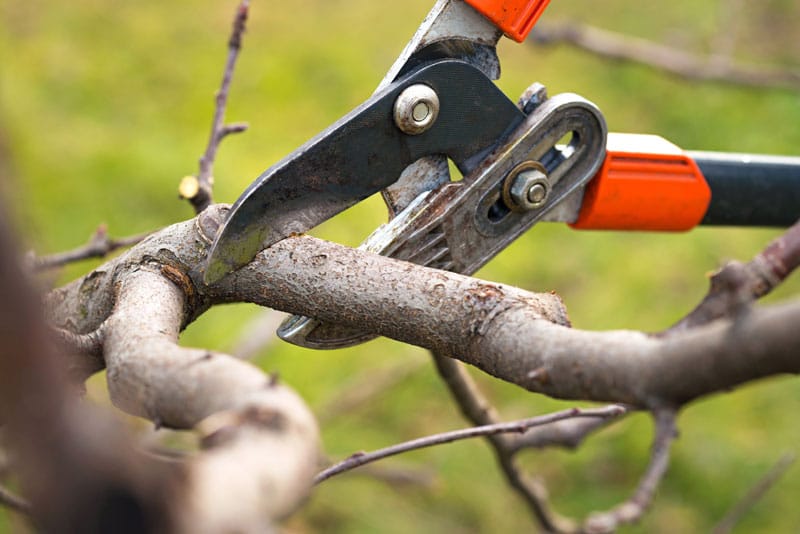 Pruning and Lacing
In addition to removing dead wood and dangerous branches, our pruning experts know how to create a neat, well cared for appearance. They're also experienced in "lacing" (also called crown cleaning or crown reduction) where as much as 1/4 of the foliage and branches are removed for appearance, sunlight penetration, and reduced wind loading.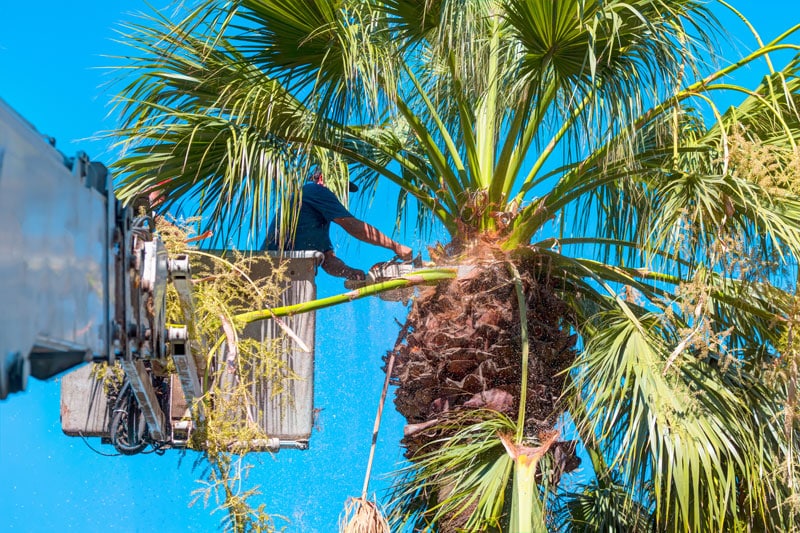 Palm Tree Skinning
Palm trimming is quite unlike that for other types of trees. Besides being unattractive, falling dead fronds pose a serious liability to pedestrians and vehicles. "Skinning" every few years is also a good idea. We'll remove the rough zig-zags for a smooth high-fashion appeal. Our palm tree services also include removing nuts before they've had a chance to grow, so there's nothing to stain concrete or create a slip hazard.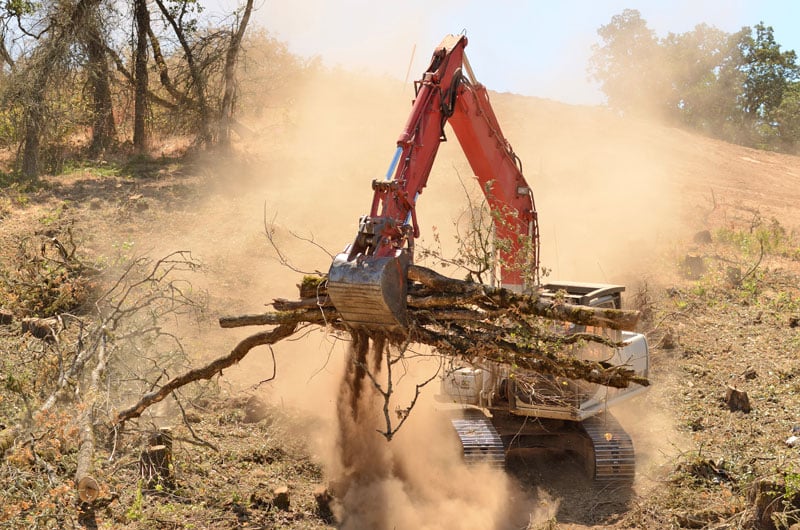 Brush Clearing
It's easy to overlook wildfire hazards and unknowingly take on unnecessary risks of fire and fines. We're always up to date on local fire ordinances and know exactly what needs to be done. So those annual inspections can be one less thing for you to worry about.
Emergency Tree Services
---
Storm damage and other hazardous situations can arise at any time of the day or night. So we're ready with 24 hour emergency services.