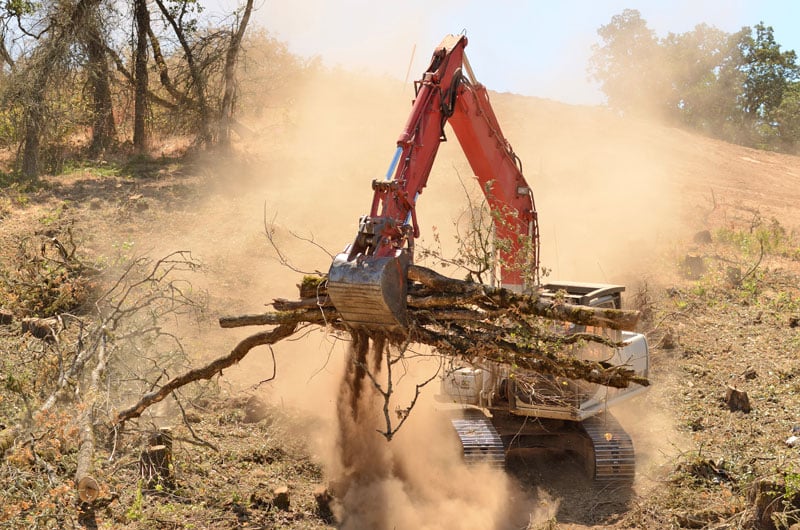 Brush Clearing Services in Southern California
28+ years of reputation for providing caring service
with integrity and fair pricing.
With the recent drought we've learned the importance of brush clearance in reducing the spread of Southern California wildfires. In times of times of dryness, elevated temperatures, and strong winds denying the fire of fuel is the most effective way to protect life and property. Our weed abatement & brush clearing services are an affordable option for property owners. It's best to schedule us annually, but we're also available on a 24 hour emergency basis.
Rancho Tree Care provides affordable brush clearing services to all Sherman Oaks, Tarzana, Woodland Hills, Santa Clarita, Simi Valley, Thousand Oaks and surrounding areas
Fire Department Requirements
Whether landscaping or native, dry shrubs, grass, and other vegetation can pose an extreme fire hazard. Most cities in Los Angeles County (including Burbank) have mandatory brush cleaning as part of their fire hazard reduction programs. Compliance involves cutting and removing vegetation to create a defensible space around buildings, streets, and highways. And it's the best wildfire protection for your home or business. Here are just the highlights of the Burbank Fire Department's regulations.
Within 100 feet of any building or structure

remove dead trees, limbs, branches, and palm fronds
maintain trees taller than 18 feet, trimming so that all foliage and branches are less than 5 feet above a roof and within than 10 feet a chimney or stove pipe
trim weeds and grasses to 3 inches in height or less
trim native shrubs so that they clear the ground by at least 1/3 of their height, are below 216 cubic feet (a bit less than 4 feet across), and are spaced at least 3 times their diameter but not less than 18 feet apart

Within 10 feet of a combustible fence, building exteriors, and the edge of a highway, street,or alley

clear dry vegetation
trim foliage and branches to be at least 6 feet above the ground
trim trees 18 feet and taller up one-third of their height
Ornamental shrubs and ground cover that are not a ready fuel supply are exempt. The details go on and on. And fire prevention requirements are even more stringent within "fuel modification zones" of extremely high wildfire risk.
Who's Responsible?
Property owners and those in control of a property are responsible for brush clearing. Cleaning must be completed by June 1 of each year, with formal inspections following. Not passing an inspection carries a warning, and there are fines of around $300 for any subsequent failed inspections. In extreme cases there may be serious legal actions.
Did You Know?  Acacia, cedar, cypress, eucalyptus, fir, juniper, palm, and pine trees as well as pampas grass are especially flammable.
Brush Clearing Services
---
Our one-call services take care of your weed abatement and brush clearing needs. After our inspection you can usually file a "cleaned by owner" claim and skip the formal inspection. Our inspection includes taking measurements and assessing what's required.
Our brush cleaning uses both manual methods (such as axes, hoes, chain saws, and hand saws) as well as specialized equipment — whatever's best suited to the situation. We exceed fire department requirements for extra safety and can take care of haul-away and proper disposal. Just as important, we don't strip the area bare. You'll still have erosion control, healthy soil, and an attractive yard.

Do You Know?
Your property line isn't necessarily at the fence. It may extend beyond, or the fence may have been improperly located.
Ranchos Tree Care is a family business with over 28 years experience in professional services and fair prices.