Your Local Tree Service Professionals
28+ years of reputation for providing caring service with integrity and fair pricing.
Expert Tree Service in Tarzana, California
Professional Tree Services
---
Looking for quality tree services at competitive prices in Tarzana, California? We're your local experts in trimming and pruning, tree removal, stump removal, and more. We've built our reputation for customer satisfaction based on knowledge, skill, and integrity. And our well-trained crew has the latest equipment for safe and efficient work. In addition to full clean-up and haul-away after our own work, we can take care of brush clearing that meets Tarzana fire requirements.
Emergency Tree Services
Our 24 hour emergency tree services are available for anything that needs to be taken care of right away. Whether a downed limb or an entire tree threatening a home after a storm. Our experts begin by assessing the safety hazards and the condition of the tree. The key decision is whether it's worthwhile to try rescuing the tree or remove it immediately. In many situation we can stabilize the tree by some combination of cabling, bracing, and trimming to reduce wind loading. Otherwise our emergency tree removal services come into play, including complete clean-up.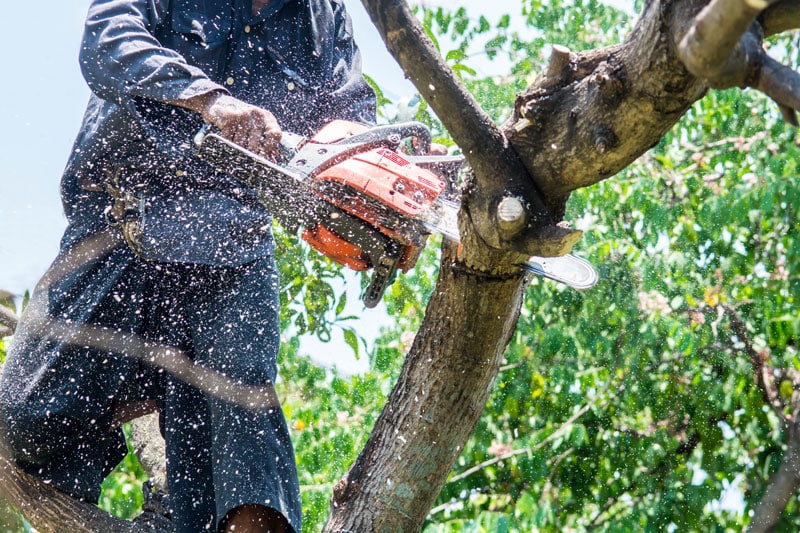 Tree Trimming Tarzana
Annual tree pruning and trimming is especially important in the first 5 years of a tree's life, establishing the best appearance and structural balance. In later years it can be less often, and primarily for tree health and safety.
Trimming is the careful shortening and removal of branches. Our crew carefully balances the goals of hazard reduction, attractive foliage, view, and tree health. Here are the main types of trimming — the details depend on each species and each individual tree.
Clearing removes dead and diseased wood along with any broken or poorly located branches.
Crown raising trims away lower branches for improved clearance.
Crown reduction removes up to a forth of all branches, requiring extra skill to achieve reduced wind loading with a properly weight-balanced structure.
Thinning selectively removes branches for better light penetration, increased air circulation, and an improved view.
Utility trimming creates clearance for utility lines.
Palm tree skimming requires a different set of skills. Besides improving appearance, it removes habitat for insects and rodents as well as eliminates the hazards of falling palm fronds. Done at the right time of year it also avoids the staining, slippery mess of falling seeds. Our specialists can also perform palm tree skinning for the sleek appearance popular in Tarzana.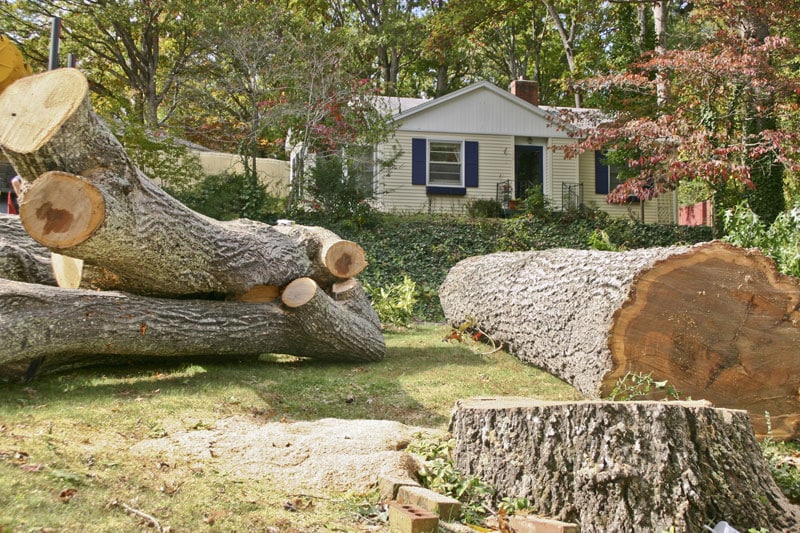 Tarzana's Best Tree Removal
Healthy trees offer a multitude of benefits, both aesthetic and practical. But sometimes our tree removal service is the only path forward. That could be due to poor prior maintenance, age, or disease. Or damage from a storm, earthquake, or vehicle accident. An inappropriate species might have been planted at a poor location.. Or you may be preparing for a major site renovation.
Our tree removal service specialists do the job right. With safety first and foremost, they have all the skills, equipment, and knowledge for a swift completion. They'll grind the branches and trunk for removal from the site, or leave the chips behind for your landscaping use.
Like most California cities, Tarzana has specific regulations regarding large tree removal. Those require prior approval and a permit. We'll take care of that, and advise you on any re-planting requirements.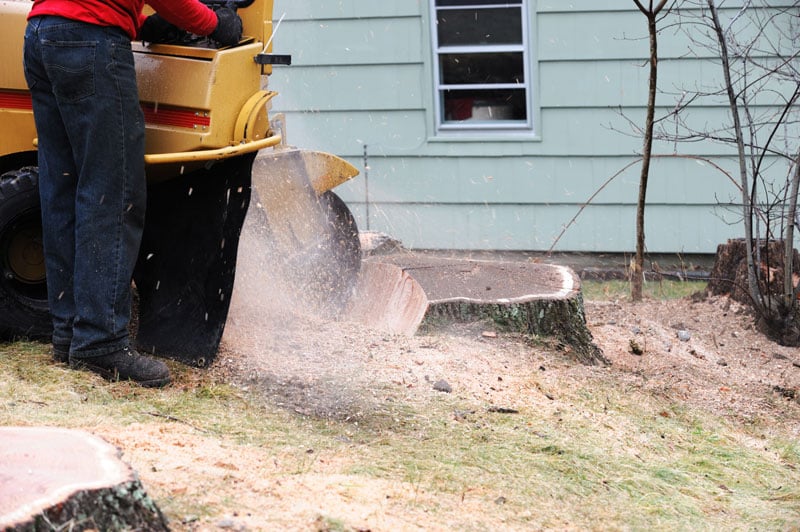 Stump Grinding
Whether recently or a decade ago, a tree removal quote that didn't include stump removal means you're now left with a few inches of trunk sticking up out of the ground. It's a mowing annoyance and an impediment to landscaping and gardening. It's also a trip hazard and likely to attract insects, especially termites.
Facing facts, chemical treatments and chopping are rarely up to the task. But our stump grinders use sharp carbide cutter disks to completely remove a stump in just an hour or two. Including roots all the way down to as far as 20″ deep so you can immediately garden right on the spot. We can haul away the wood chips, or leave them for you to use as mulch.
Choose Rancho Tree Care
---
BBB accredited, we've been in business for over 28 years building a great reputation all along the way.. Just check our reviews. Family owned and operated, our tree service professionals promise expertise, promptness, and attention to detail in all we do.