Southern California's Trusted HOA Tree Services

28+ years of reputation for providing caring service
with integrity and fair pricing.
HOA Tree Services
---
Many businesses ignore trees until there's a problem. That's rarely the best strategy, and the property will loose some eye-appeal long before any major issue. Our commercial tree services help keep landscaping looking it's best and the risks of building damage or personal injury to a minimum. Our expertise includes tree trimming, tree removal, stump grinding, and much more.
Rancho Tree Care provides affordable HOA tree services to all Sherman Oaks, Tarzana, Woodland Hills, Santa Clarita, Simi Valley, and surrounding areas
We're proud to provide high-quality and economically-priced tree services to HOA boards and property managers. You have enough to deal with, so let us manage tree trimming, tree removal, and your other tree care needs.
Our HOA Tree Services
Our team of tree service experts work to your schedule. Polite, respectful, and courteous they'll keep disturbances to your homeowners or tenants to a minimum, and keep them informed on planned work and schedules. We'll keep up with homeowners association regulations and trim accordingly. We'll identify the species, condition, hazards, and liabilities of each individual tree. Then advise the board or property manager on any problem trees with conditions such as disease, overcrowding, or split crotches.
Knowledgeable in local tree, view, and shade ordinances we can develop a long-term maintenance plan for fewer emergency calls and the best results for your budget. We understand cash-flow issues and will prioritize tree care — not everything needs to be done at the same time.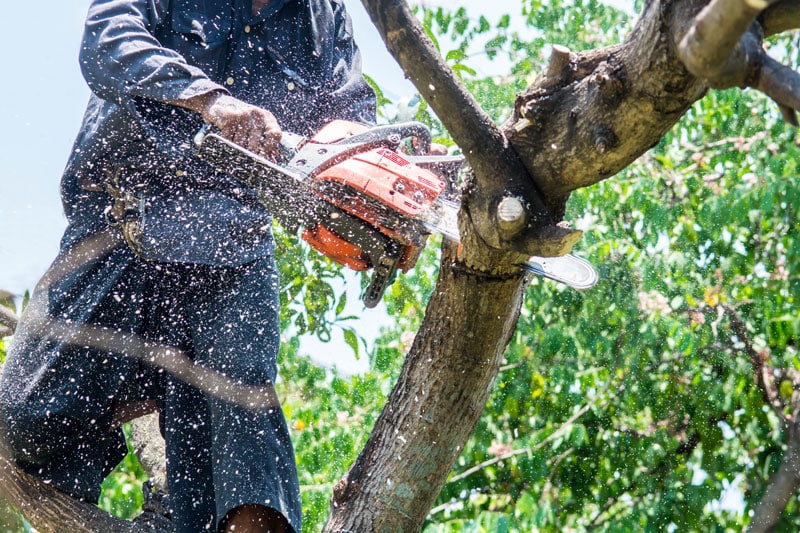 Tree Trimming
Our expert tree trimming services improve appearances, protect the health of trees, and improves their resistance to wind by removing dead wood and selectively removing or shortening branches. Annual trimming reduces homeowners association liability and makes properties more attractive.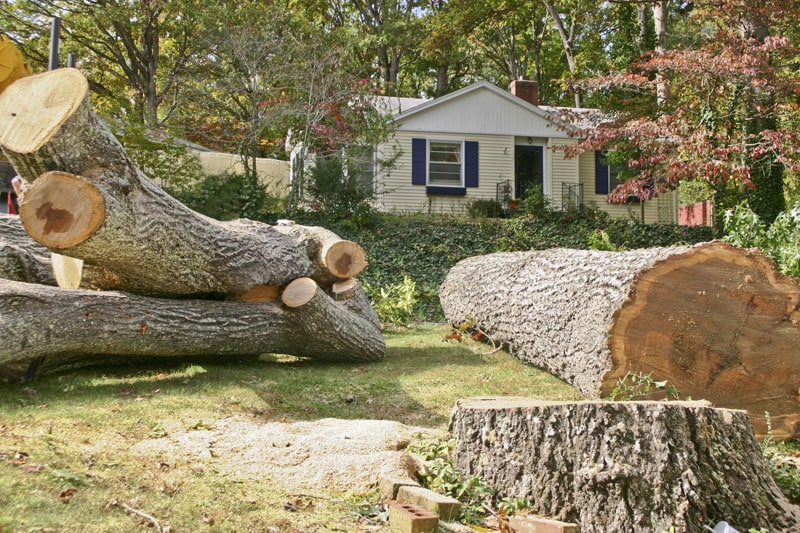 Tree Removal
As necessary we'll conduct tree removal to eliminate major problems. And always work according to city codes, regulations, and permit requirements. At your request clean up and leave nothing behind.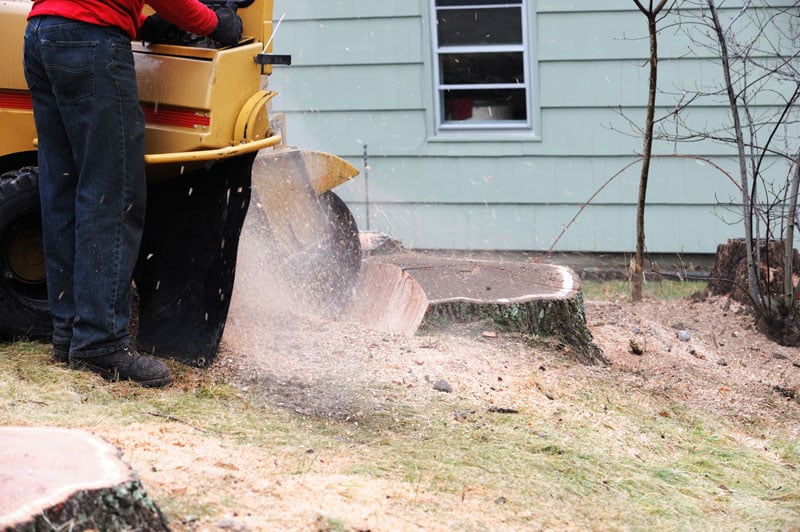 Stump Grinding
After the tree removal our stump grinding equipment removes the trunk and roots to well over a foot deep for a return to easy and flexible landscaping. At your request we can leave the wood chips (actually, more like sawdust) for your use as mulch.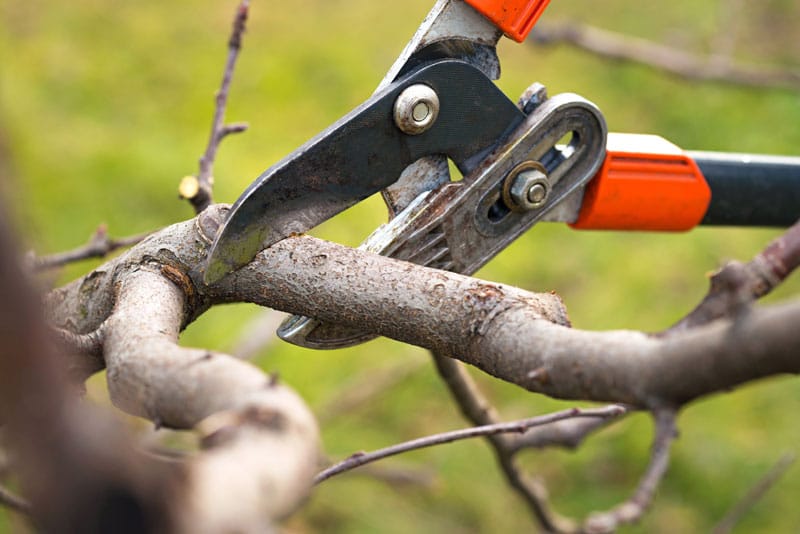 Pruning and Lacing
More frequent "touch up" with hand pruning will keep everything looking its best and usually saves money in the long run. Our lacing service removes as much as 1/4 of the branches and foliage for a more open look. Lacing also improves the tree's health and provides more open views.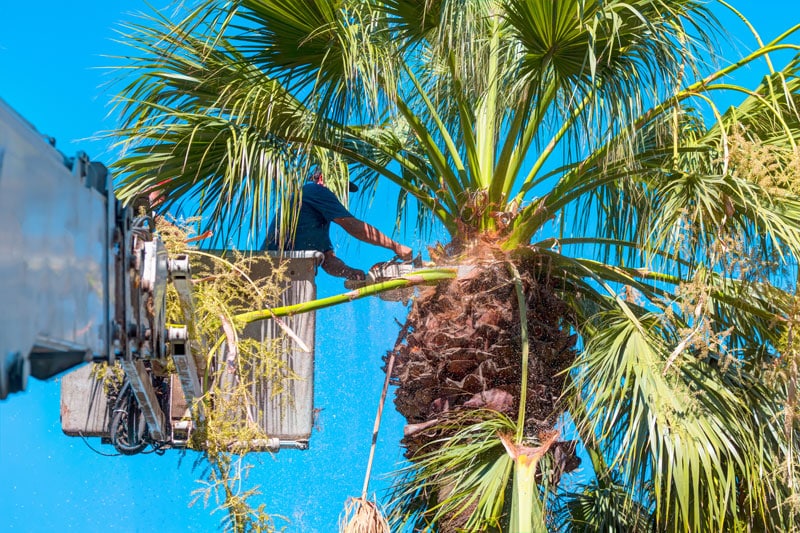 Palm Tree Skinning and Trimming
Palms require special care, with sharp heavy fronds falling rather than leaves fluttering down. Our specialists remove fronds before they become a hazard. Removing seeds at the same time, just before they start growing, also improves palm health as well as appearance. And there's no seeds falling to stain pavement or create a trip-and-fall hazard. Skinning every few years results in a stylish appearance and one less habitat for insects.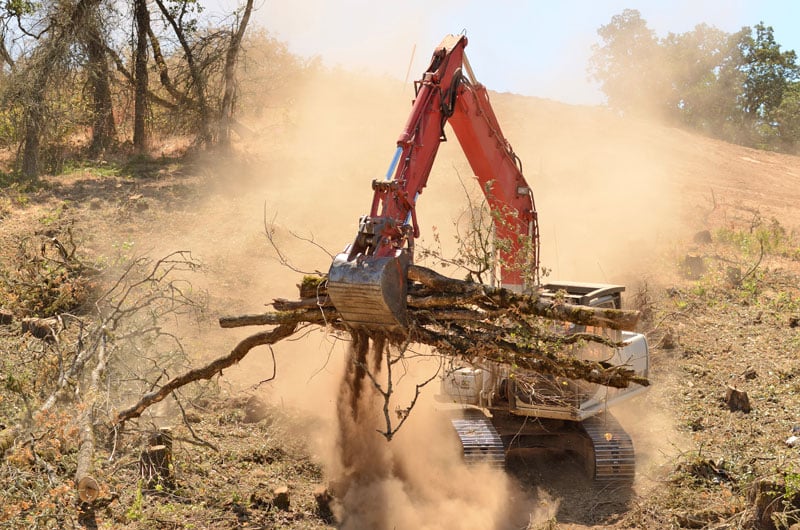 Brush Clearing
We can help protect your property from wildfire by clearing away brush and other dry vegetation. Southern California fire department ordinances set very strict requirement for brush clearing as far as 100 feet from any structure. We fully understand those requirements so that you can pass the annual inspections without risking a fine.