Your Local Tree Service Professionals
28+ years of reputation for providing caring service with integrity and fair pricing.
Professional Tree Services
---
We're Camarillo's tree care professionals, experts in pruning and trimming, tree removal, stump grinding, and more. You can count on us for the right balance of safety, appearance, and tree health. And our emergency tree services are available 24 hours a day.
Emergency Tree Services
Damage, or impending damage, can happen any time of the day or night. With our 24 hour emergency dispatch we can be there promptly to deal with just about any situation. But despite bad weather and time pressure we do the job right. We'll assess the hazards to the tree and its surroundings before taking action such as removing branches to stabilize against further wind damage, cabling, bracing, or emergency tree removal services. We'll also advise you on any recommenced follow-up trimming.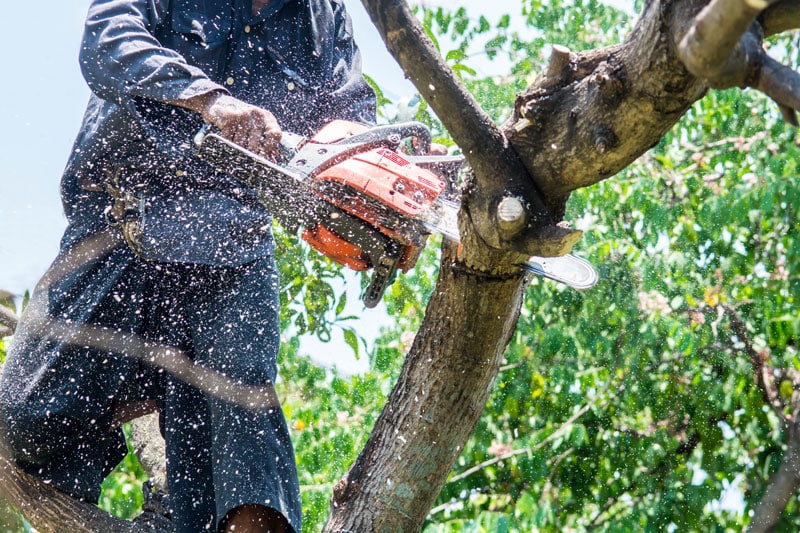 Trimming
Annual professional pruning and trimming are important during the first 5 years of a tree's lifespan to establish a healthy structural balance and the best appearance. After that it can be less often, and primarily for hazard reduction. We're knowledgeable in the particulars for pretty much every species common in Camarillo and tailor our services to each individual tree for the best balance of appearance, health, and protection.
There are 6 basic types of tree trimming. A tree trimming service usually combines two or more. Basic trimming clears dead wood along with any broken, diseased, or poorly attached branches. Thinning is the careful selective shortening and removal of branches for improved light and air circulation as well as for improving views. Crown reduction removes up to a forth of all branches for improved structural strength, wind resistance, and balance. Crown raising removes lower branches for higher ground clearance. Topping reduces the total height of the tree. Utility trimming creates clearance between foliage and utility lines as well as from nearby structures.
Palms
Our team includes specialists in palm tree trimming. Although often neglected, it's important in eliminating the hazards of fire, falling fronds (they're heavy and sharp!) and staining slippery palm seeds. It also removes hiding places for insects and rodents. An additional service, palm tree skinning, achieves the sleek "Hollywood" look popular in Camarillo.
Brush Clearing
Whether for large acreage or a small yard, we're ready to remove eyesores and meet Camarillo requirements for fire brush clearance.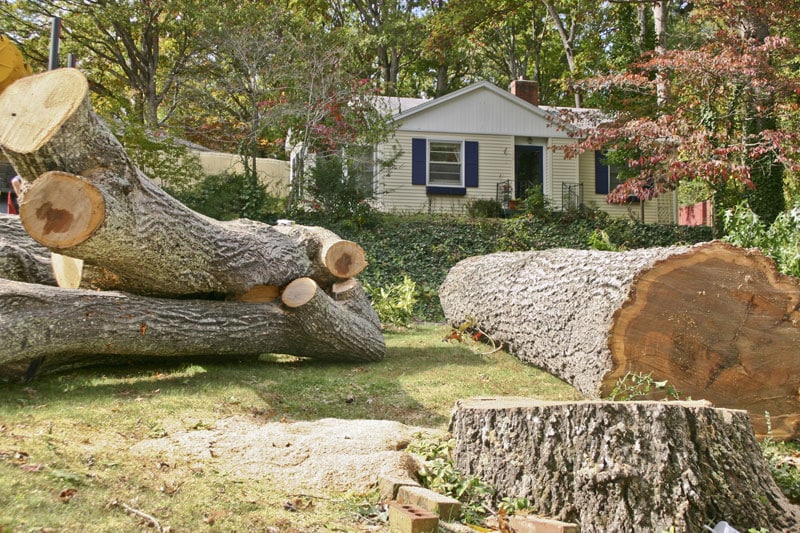 Tree Removal
It's a sad thing to loose the beauty and shade of a tree, but sometimes it can't be avoided.
We can first carefully diagnose the tree and assess the likelihood of a successful recovery. But if it's suffered from excessive neglect, age, storm damage, or disease removal is necessary. That may also be true for an inappropriate species or an inappropriate location as well as in situations of renovation or new construction. We have all the equipment, experience, and training for even large tree removal that keeps our workers, surrounding buildings, vehicles, and utility lines safe.
Camarillo city codes regulate tree removals above a certain trunk diameter and height, and certain species have extra protection from the State of California. We're familiar with all the details and do everything "by the book." That includes taking care of Camarillo permits. For both branch and tree trunk removal we can haul everything away, or leave selected wood behind for your use.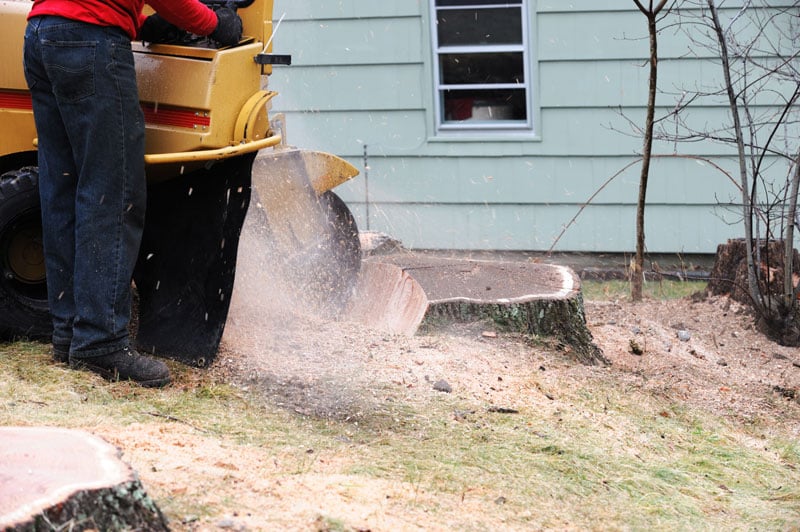 Stump Grinding
If stump removal is not in a tree removal price quote you'll be left with several inches of stump. Or you may have seen for yourself that year after year (even decades) they just don't go away. Even with chopping or chemical treatments. They're an annoyance and an eyesore, interfering with landscaping and mowing. They also harbor insects, and may even sprout and try to regrow.
Our tree stump removal uses a grinder, sized just right for the job, to completely remove a stump in just an hour or two. We can even remove roots down as deep as 20 inches so there's no interference with gardening. We can haul away the "sawdust" or you can use it as mulch.
Choose Rancho Tree Care
---
Family owned and operated, we've been providing timely tree care services for 28 years and counting. Our tree service professionals are well-trained and courteous experts. They put safety first and properly attend to all the details. For us the job isn't finished until everything is cleaned up and hauled away for recycling or proper disposal.